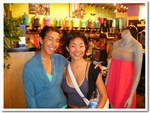 Yoga with Monica Ross
April 26, 2009
Location: lululemon store
Sunday, 8:30-9:45am
Please join us on Sunday morning for a complimentary yoga class led by Monica Ross.
Monica Ross began the practice of yoga at the age of 17 but didn't find the other spiritual layers of yoga until several years later while living in South East Asia. Surrounded by the less fortunate served as a motivation for her to practice Asana with the intention of
delivering positive energy back into the world. With the help of a Jivamukti book and a mentor, she found herself saluting the sun everyday to share the power of yoga with the world. From her dedicated
self studies it was a natural progression to continue her studies in a
200 hour teaching training program. Upon completion of her training, she is now working with local teachers to further grow and develop her love for yoga. Monica's practice and teaching is influenced by diversity and love for the world.
This is an all levels class, so bring a friend, a co-worker or family member!
And bring your mat!
For more information, please contact us at 946-7220, email alamoana-store@lululemon.com, or come by the store!